What we do
Mechanical carpentry and large-size machining work
The main goal here at ZA.BO has always been the ability to follow, step by step, the innovations the market requires and the Customer's requirements, focusing mainly on our ability to manufacture parts of increasingly larger size, weight and technological level, through large manufacturing facilities, acquiring equipment, bridge cranes with a capacity of up to 40 tonnes, manufacturing facilities, personnel training, targeted recruitment and cooperation with contractors and suppliers under continuous monitoring, that have enabled ZA.BO to make inroads in new market segments.
The innovations introduced over time have, however, always been made while taking into account our ability to take the product in or out of the production cycle at any time, in order to ensure that no matter the customer's requirement, it can be met. It is also essential to have a timely response for machining not done at the company (e.g. boring of large parts, thermal treatments, sanding, special painting, etc.) with the cooperation of outside contractors.
Another element of primary importance has always been to focus on creating quality products, within the time required by the customer and at competitive prices.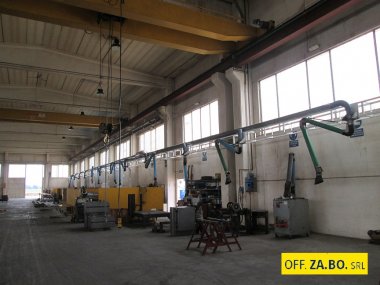 Our internal staff's strength, welding is done by personnel qualified according to standard UNI EN 287-1:2012. Our personnel thus boasts of different types of qualifications based on internal WPS and specific customer WPS issued by the RINA institute (Registro Italiano Navale).In particular, these qualifications concern:UNI EN 287-1 135 D-135 …
Go to page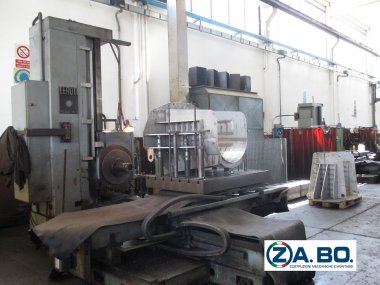 We do Boring and Milling of ferrous materials. We are equipped and specialised in machining both individual parts or prototypes, and small and medium scheduled production batches. We carry out machining on cast pieces in Aluminium, Cast Iron and Stainless Steel, mechanical carpentry machining on Iron and Stainless Steel, and machining on small and …
Go to page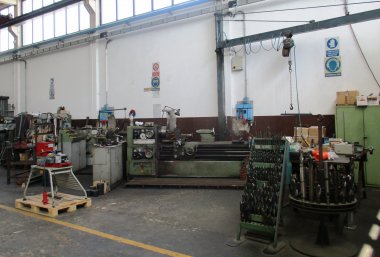 At our company, we also have a turning department to handle this type of machining, when required by the customer. The following machines are available:BREDA LATHESERIAL NUMBER 26267 TRANSV. STROKE 500 AND MULTIPLES MIN, MAX RPM 1,800 MAX DIAM. FLANGE 740 MAX DIAM. UNDERCARRIAGE 300 DIST. BETW. CENTRES 2,500 DIAM. FEED ROD 60PARPAS LATHESERIA …
Go to page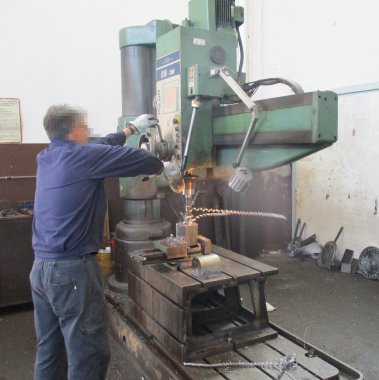 Should the customer also require drilling machining, the Machine Tools area contains the following drilling equipment:CASER DRILLSERIAL NUMBER 74017 MAX DRILLING IN SOLID MATERIAL DIAM. 60 PILLAR DIAM. 450 MIN MAX RPM 1,700BREDA DRILLSERIAL NUMBER 114476 MAX DRILLING IN SOLID MATERIAL DIAM. 50 PILLAR DIAM. 355 MIN MAX RPM 1,700AMBROS RA …
Go to page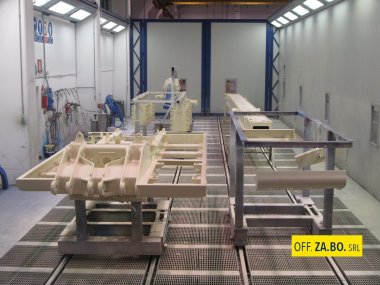 The painting system built in the new warehouses in 2010 is a double system with wet scrubber. The two booths have the same specifications:Length: 23,200 mmHeight: 5,000 mmWidth: 7,800 mmThey are open at the top in order to allow large parts to be moved with bridge cranes. For smaller parts, we can use rail transfer carts that run …
Go to page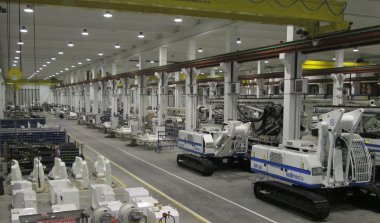 The large areas available for assembly and other machining enable us to manage work orders for parts that fall outside common standards. In particular, thanks to the capacity of lifting means (see section Tools - Lifting Means, for more information) that cover all manufacturing areas, we can handle parts of significant weight and size. This enables …
Go to page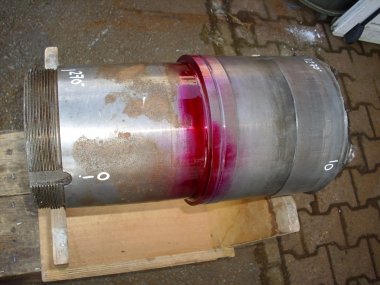 WELDING INSPECTIONS:Liquid penetrant inspection: in order to ensure the product's compliance with the Customer's requirements, internal personnel has been trained to have the NDI (Non destructive inspection) Operator Quality Certificate in compliance with Recommended Practice No. SNT-TC-1A, 2006 ed. (level II, Liquid Penetrant Testing m …
Go to page